Shell and Tube Heat Exchangers
From design to delivery, our premium shell and tube heat exchangers offer efficient heat transfer, exceptional quality, and unmatched service.
Quality
Crafted with precision from the finest materials – discover our premium shell and tube heat exchangers, engineered for uncompromising quality.
Design
Customised solutions for your unique heat transfer challenges – let our experts design your shell and tube heat exchanger.
Service
Expert guidance and personalized support – discover a new level of service with our shell and tube heat exchanger solutions.
Poole Process Equipment is a one–stop–shop for all your air cooled heat exchanger needs. Our experienced team of expert engineers are able to design, build, manufacture, test, and overhaul air cooled heat exchangers in our dedicated manufacturing facility located in Poole, United Kingdom. We specialize in creating custom, complex packages as well as providing replacement bundles and components. Our comprehensive services ensure that all our customers receive the highest quality product that meets their exact specifications.
Our dedicated team of engineers and specialists have years of experience in the exchanger industry, with an in–depth knowledge of all TEMA configurations used in a wide range of metallurgies. We understand the importance of providing our clients with choice and value and that's why we offer carbon steel/corrosion resistant clad exchangers as an alternative to complete alloy units. Our manufacturing plant is equipped to handle all aspects of the process, from design to test, and we have the capabilities to refurbish and extend the life of existing exchangers. Our experienced team can assist you in selecting the most suitable material for your application, ensuring that you get the most cost–effective and reliable solution.
Thermal design utilizing the most up–to–date HTRI software –
Mechanical design with PV Elite design software; PED and CE compliant –
Drawing and modeling services
Contract and project management and communication
In–house fabrication, machining, drilling and assembly services
Pressure testing and installation services
Quality management, inspection, NDT, testing and control – ISO 9001 certified
Quality Standards
Shell and tube heat exchangers that meet the highest quality standards in the industry
Our products are designed and manufactured to meet a range of quality standards, including ISO and ASME, ensuring that each heat exchanger is of the highest quality and performance.
We are committed to ensuring that every product that leaves our facility meets or exceeds these standards, and we have implemented rigorous quality control processes to ensure that each product is thoroughly tested and inspected before it is shipped to our customers. Our team of skilled technicians and engineers carefully inspect every component of our shell and tube heat exchangers to ensure that they are manufactured to the highest standards of precision and workmanship.
Our focus on quality means that our customers can rely on our products to deliver exceptional performance and durability, even in the most demanding operating conditions.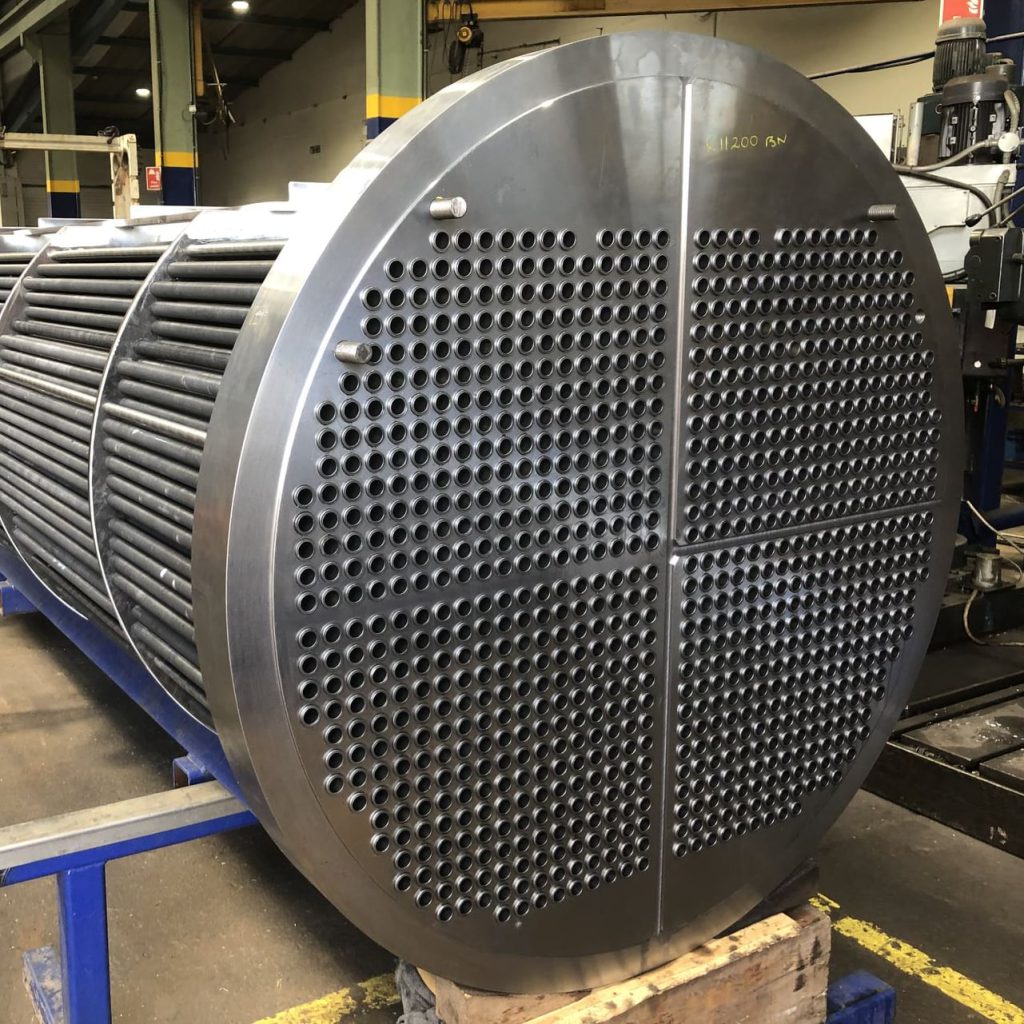 Design Service
Our focus on quality means that our heat exchangers are designed to deliver optimal heat transfer performance, even in the most demanding operating conditions. Our experienced engineers and technicians work closely with our customers to understand their specific needs and application requirements, and we are always available to provide support and guidance throughout the design, manufacturing, and installation processes.
Our Work
Shell and Tube Heat Exchangers