WJA Hydrodemolition Module (HD)
Gain solid understanding of the benefits, efficiencies and safety concerns surrounding Hydrodemolition operations.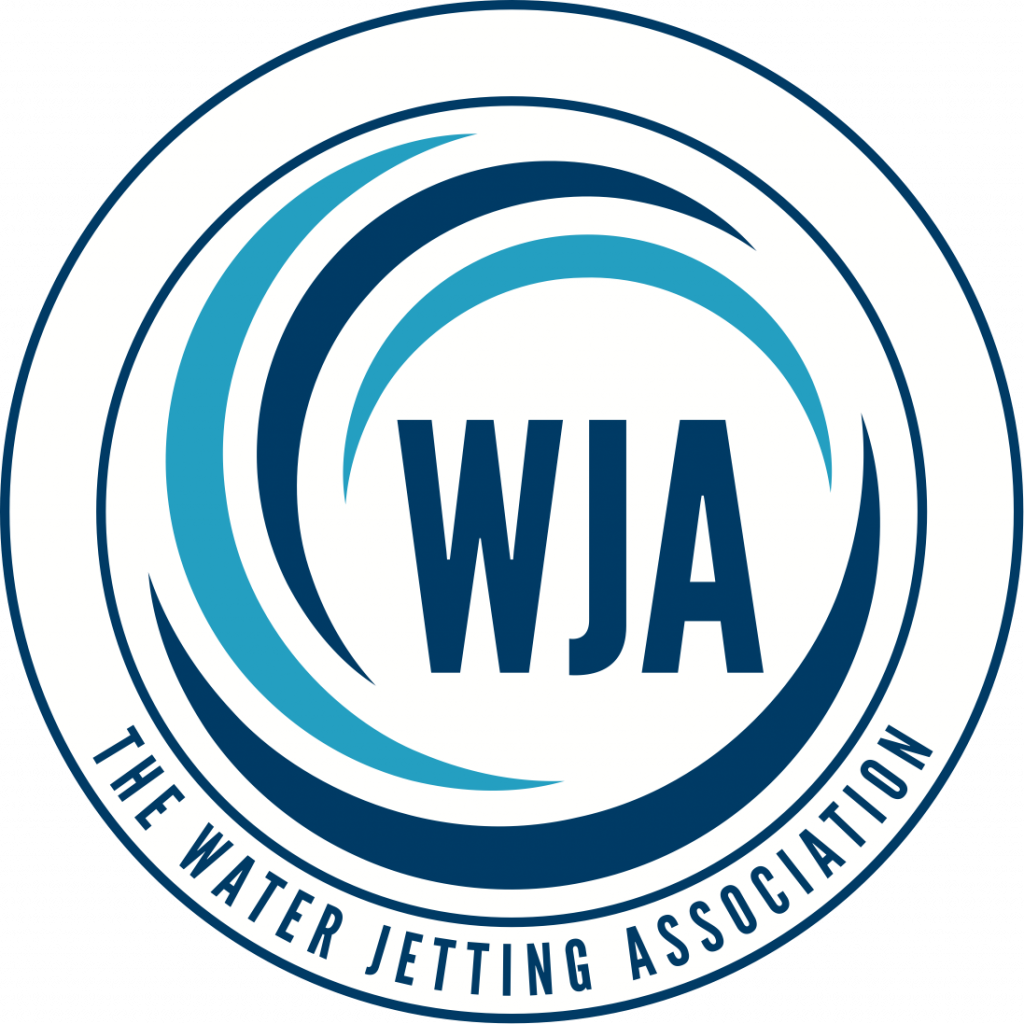 Water Jetting Association (WJA) 
Hydrodemolition (HD)
By attending the Hydrodemolition (HD) course, candidates will gain a practical understanding and knowledge of how high-pressure water jets can be controlled to remove concrete or demolish structures.
 Key safety points will be covered during the course that considering some of the most common concrete cutting and removal scenarios. 
Key features of WJA Hydrodemolition (HD) Course
One Half Day Contact Time
Classroom and Practical Elements
Receive an Operational Jetting Card
Safety
Candidates will gain a greater understanding of the dangers and safety requirements of hydrodemolition operations.
Up To Date
Sucessfully completing the WJA Safety Awareness course every three years ensures important safety and operational updates are received and maintains a valid WJA certification
Proficiency
Candidates will gain a deeper understanding of the jetting principles increasing their ability to carry out high pressure water jetting tasks.
Development
Candidates who successfully complete the course gain a City and Guilds approved certificate and photo card showing their credentials.
WJA HYDRODEMOLITION (HD) COURSE CONTENT
Registration & Introduction
Review Key Safety Awareness Issues
(include only when presented as a'Stand-Alone' Course) Nozzles & jets – pumps & ancillaries – pressure controls – water jeting ehos – hazards &injuries – PE –
operational procedures.
Applications & Machines
Scope of hydrodemolition applications. Range fo hydrodemolition tasks. Range of jetting machines suitable for hydrodemolition.
Jetting Equipment - Nozzles & Ancillaries
Review nozzle principles – fixed jet nozzles, abrasive cutting nozzles, nozzle life & weacrharacteristics, associated ancillary equipment including automatic & semi automatic.
Jetting Equipment - Water Jetting Hose
Hose used ni hydrodemolition applications, damage & wear possibilities, hose ancillaries. Bore size & flow
ratings. principles – fixed jet nozzles, abrasive cutting nozzles, nozzle life & weacrharacteristics, associated ancillary equipment including automatic & semi automatic.
Jetting Equipment - Machines
Range of jetting machines used – engine controls & instruments. Pump pressure controls, review dump/
dyr shut & selector/fail safe types, auto engine speed control systems, pressure safety relief. Water supply/ delivery features – filtration requirements, boost feed pumps, built-in anti freeze provisions.
Job Assessment & Planning
Information & assessment – site location, access ot work area & layout; material to be removed, work piece
and task features, water provision, waste disposal hazards.
Selection of equipment & manning levels – jetting machine/nozzles/accessories, number & duties of operators, single person operation. Determine job method, based on safe system fo work.
Operational Procedures
Daily checks – manufacturer's instructions, other items requiring regular checks.
Setting up – permits/authorisations, barriers & warning signs, positioning of machine, team duties & signals, flushing, leaks check, trial run.
Monitoring of operation- flying debris, waste containment, work standard.
Job completion- client inspection, waste removal, equipment decontamination, return site to safe condition.
Practical Exercises
Jetting machine & equipment – review features and demonstrate daily checks, start / run / stop. Job assessment – review & discuss – site location & constraints, accessibility, screening/extraction
requirements. Work piece – nature of material & work to be carried out. Water supply – effluent drainage &
waste disposal.
Hazards & use of PE. Discussion fo options, agre ojb method.
Site preparation – setting pu work area. Team talk – review job method, signals, set up team(s). Positioning
of jetting machine, layout & check equipment.
Demonstrate al procedures ot full group. For all teams, instruct each operator ni each duty.
Trainees carry out exercise – each team following instructions to set up, flush, check for leaks, cary out trial unr, proceed with operation. Rotate team members through duties. Review ta each rotation and final review.
Disconnect equipment & clear site.
Summary
Review of course content as above, with opportunity for further discussion prior to Questionnaire.
Adding WJA Modules to WJA Safety Awareness will give jetters operational status in one or more of these areas of specialism.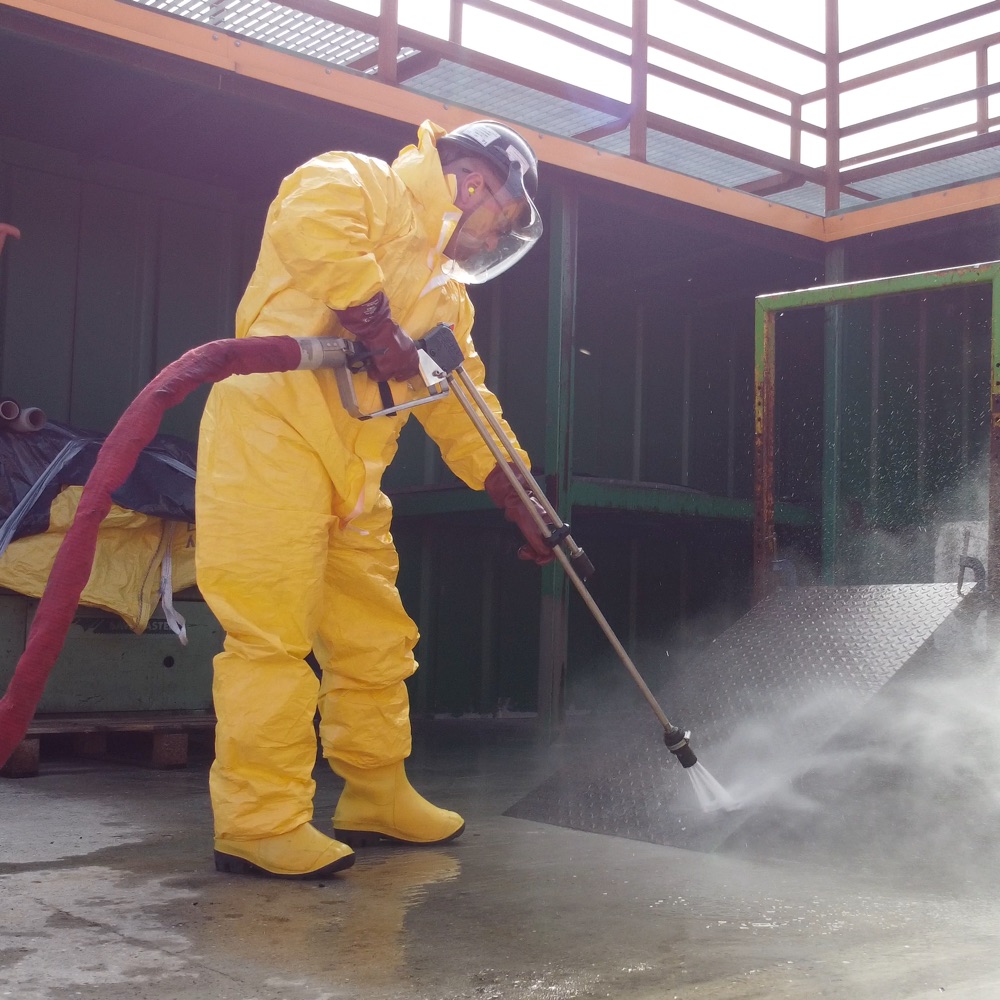 Surface Preparation (SP)
Clear floor areas, strip coatings, remove graffiti, and clean industrial equipment the WJA Surface Preparation and Cleaning Module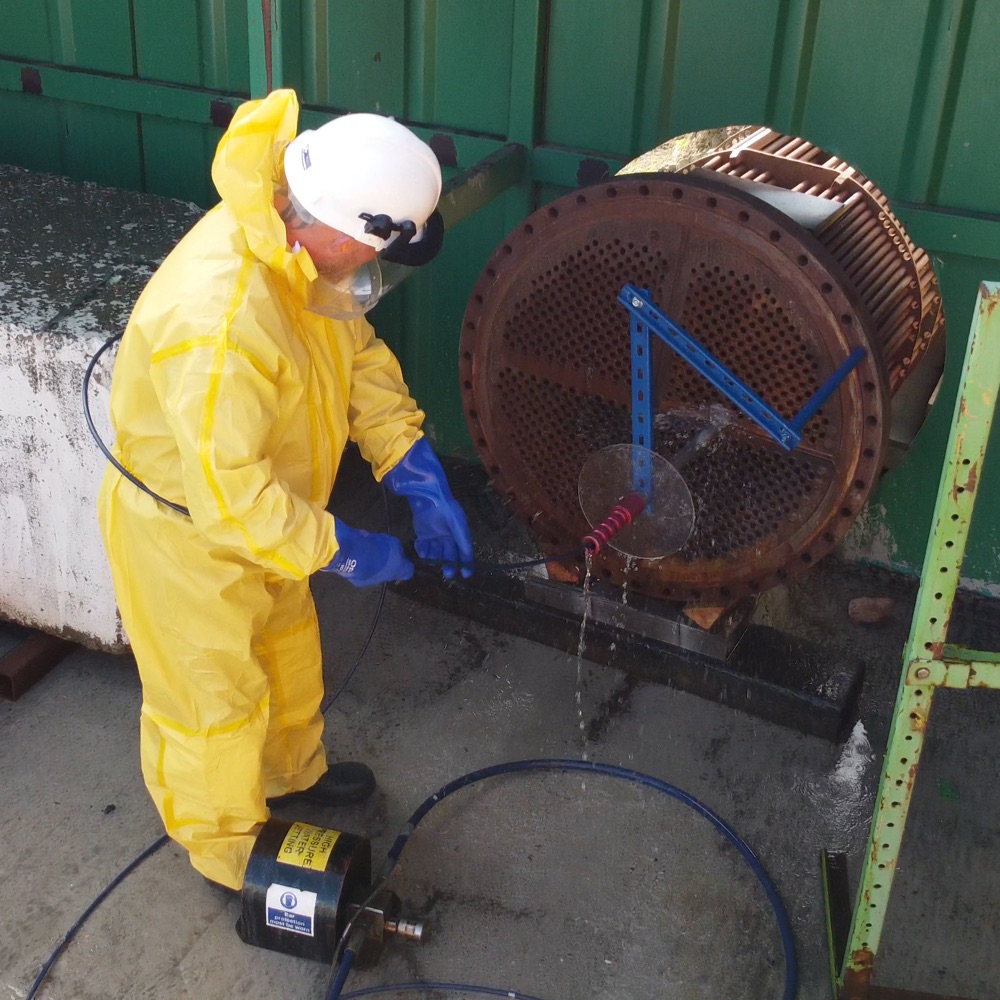 Tube & Pipe Cleaning (TP)
Learn to safely and effectively clean tube bundles and pipework with the WJA Tube and Pipe Cleaning Module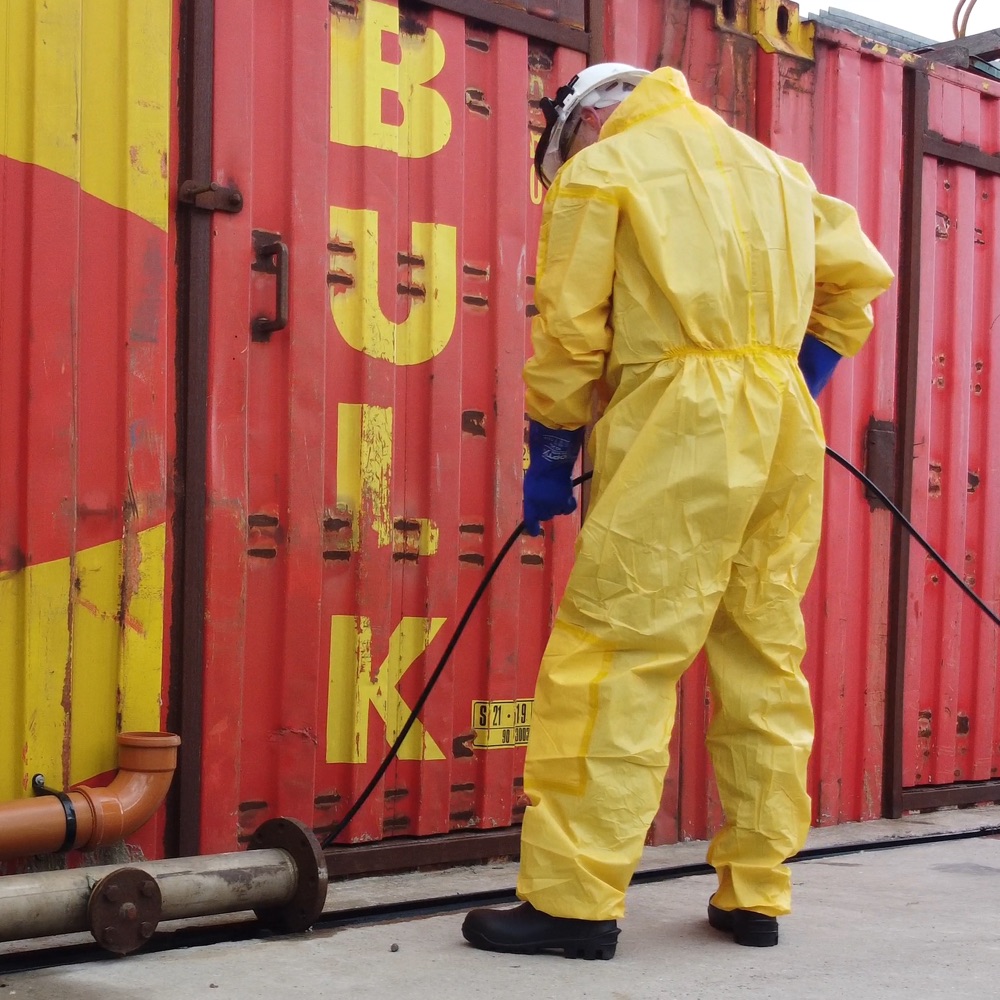 Drain & Sewer Cleaning (DS)
Understand the safety aspects and learn effective methods to clear blockages, scale, or debris with the WJA Drain and Sewer Cleaning Module
Find out More about WJA Training